Now before I even get started, let me state that I know everything negative about Cairo. Uh, I live here. So before you start with the "whats apout" sexual harassment/traffic/pollution/ corruption/poverty/the government, yes I know all these things, we all do. But I'm a believer in being realistic, which is why I can't get on board totally with the #ThisIsEgypt campaign (a campaign based on 1% of the Egyptian experience), nor can I get on board fully with the hordes of Egyptians who want to haul ass out of the country, permanently. I've also been lucky enough to live abroad for a substantial amount of time so I can't even say I suffer from Stockholm (Cairo?) Syndrome. 
So here are a handful of reasons why Cairo is objectively one of my favorite cities in the world:
1. The Nile
Source: Kempinski
I thought I'd start with the obvious reasons first. Yes, the Nile is one of those things touted in all the tourist brochures, but um, THAT'S FOR A REASON. I dare you to find me a single Egyptian who doesn't truly enjoy spending time on our trusty river. Whether it's a sexy rooftop venue like the above, or something more accessible like a felucca below, the Nile is both Cairo's literal and figurative life source, a breath of fresh air in the middle of the desert. For those who've spent time in a city with no main body of water, you'll realize just how much we take the Nile for granted, yes, weird floating things and all.
Source: Cairo Top Tours
2. The Pyramids
Source: Mena House
Another cliché but COME ON. Millions of people pour into the country yearly (or used to, RIP tourism) to see one of the greatest things the human race has ever accomplished, and I mean like EVER. We in turn stuck a KFC in front of it. In all seriousness though, just like we go Instagram the hell out of the Eiffel Tower and Times Square, we have the best of all "sights" right in our backyard, and as Egyptians, it's hard to say confidently in this day and age that we have the best of anything (RIP ancient Egypt). Yeah, I agree that actually visiting the Pyramids these days has become pretty shitty, what with all the touts who'll hound you to ride a camel, buy some crappy Chinese trinket, take a "panoramic" picture, etc. -- but that doesn't mean you can't still appreciate them from afar at places like the Mena House. So sit, get a drink and gaze in wonder at the Pyramids instead of just accepting the accolade that our ancient forefathers worked their asses off to create. 
Source: Mena House
3. Cheap but really tasty food.
Mahrous in Garden City. Source: The National
If you want to spend a bomb on food in Cairo, that's most certainly an option, but so is great food that's wallet-friendlier during the end of the month. Fool, taameya, koshary, shawerma, local salads, you name it, someone on the streets of Cairo does it pretty effing well.
Koshary Abou Tarek.
4. We're 2 hours away from some of the world's best beaches.
North Coast. Source: Wikipedia
In 2-3 hours, you can escape the urban jungle and be on a pristine white sand beach on either the Mediterranean Sea or the Red Sea, how many other countries can say that? The North Coast (Marsa Matrouh especially) has crystal-clear waters and is honestly better than any other beach I've been to on the Mediterranean in terms of beauty, and yes that includes the Greek Islands. A few hours to the east will bring you to either Sokhna or Ras Sudr on the Red Sea, which also boasts amazing beaches.
Movenpick Hotel in Ain el Sokhna. Source: Booking.com
5. Tons of restaurants.
Source: SilverKris
It's always been a vague mystery to me how our economy can be tanking and yet every day we wake up to the emergence of 5 new restaurants. But hey, I'm not complaining -- we Egyptians like to eat, and eat we shall, and at all price ranges. I like that there's a new movement of beautifully-decorated restaurants (albeit only in pricier places), because they act as little havens from Cairo streets. So whether it's local fare, chain franchises (gotta love a TGI Friday's on the Nile), or a slew of different ethnic foods (Chinese, Thai, Lebanese, Indian, Japanese, Italian, French, Swiss, Mexican, American, Syrian, Yemeni, so on and so forth), you want it, we got it. True, some restaurants are hit and miss, but that's part of the adventure of trying out whatever's new.
Source: Abou El Sid
6. The weather.
Source: Four Seasons
Now before you start getting hysterical and asking me what drug I've been taking, take a moment and think about it. The weather is pretty perfect from February-May, save a dust storm or two. Then we have three hot months, but spend most of our time in the AC during the day, plus the weather is great at night. Followed by perfect weather from late September - November, then "winter". We Egyptians like to get dramatic about the cold, but anyone who's been to Europe or North America during winter months knows we're actually just big babies. And yes, true, it hardly ever rains, but then look again at the rainy nations, you don't know if they're trying to drown in their tears or the rain.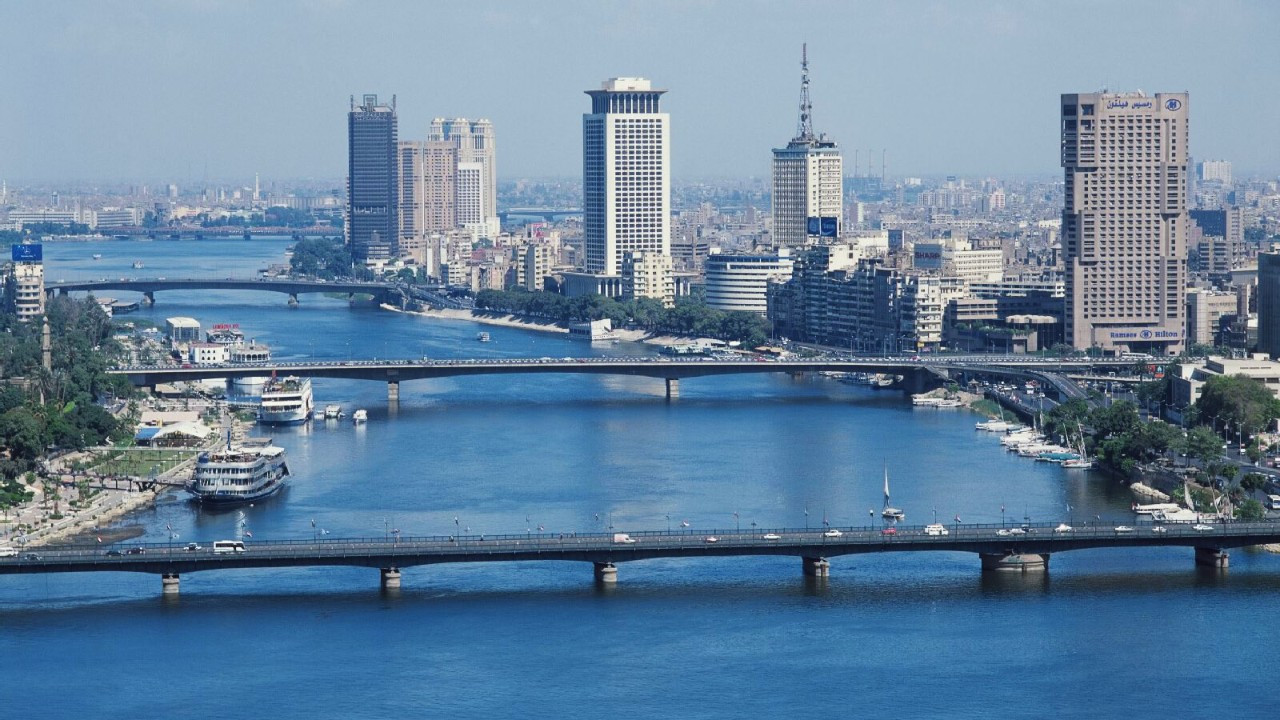 Source: Four Seasons
7. The best (and most affordable) shisha in the world.
Source: Lola Akinmade
As a shisha aficionado, let me tell you, there's no place like home. Besides the fact that the prices of shisha in Europe and the US will make you cry (20 dollars/euros each), they also suck. Cities like Beirut or Istanbul serve pretty good shisha, but not as good as ours and also more expensive. And it's not a coincidence that wherever you are in the world, your shisha handler will have a 93% probability of being an Egyptian called Mohamed. What can I say, we do shisha well. In Cairo you can either have one for as little as 2-5 EGP at a "real" ahwa, or up to 40 EGP in upscale places like Carlos in Le Pacha. But no matter how expensive it is here, it'll NEVER come close to what others pay abroad. 
Source: National Geographic
8. There are actually lots of activities if you step out of your comfort zone.
Source: Art Cafe Egypt
A lot of us complain that there's nothing to do in Cairo that doesn't revolve around food (a fair point), but recently that's not really the case anymore. If you're willing to try something new or, God forbid, leave your neighborhood (no judging, it's very rare to find me outside of Zamalek to be honest), then there's actually a whole array of things you can do: all kinds of sports (even if you're not a member of a sporting club you can pay an entrance fee), join a fitness cult (sorry) like CrossFit or BeFit, take yoga, pilates, or dancing classes, take art classes, learn an instrument, try that BreakOut place in Tagamo3 (the one where you have to figure out how to escape the rooms), try that new trampoline park Gravity Code, go paintballing at Adrenalin in 6th of October, and on and on. That's of course besides the movie theatres, and a lot of places around town do special screenings of international or indie movies. Of course feluccas are always a crowd favorite, and you can even do day trips to Fayoum and Wadi Rayan, where there's sandboarding and fishing in Lake Qaroun.
Gravity Code's trampolines. Source: Youtube
9. We can actually make use of our 7000 year history that we keep harping on about.
If we actually learned about our 7000 years of civilization instead of just talking about it, I promise you, we'd be a smarter nation as a whole. So many places we deem "tourist" spots and suggest to foreigners visiting, and yet have never been ourselves. Places like Coptic Cairo, old Islamic Cairo, the museum, el Fustat, the citadel, etc. are full of really interesting things to see and think about, but most of us are just like, "nah". 
Source: WikiMedia Commons
10. It's not hard to live on a budget.
Source: Yahoo News
If the financial gods aren't your friends at the moment, Cairo is a pretty good place to be. First of all, most people live with their families, so already you're saving rent. Secondly, as we said above in point 3, cheap food doesn't necessarily mean bad food. You can have 2 full meals a day for less than 20 EGP (koshary and foul & taameya), or hit your nearest kiosk and stock up on instant noodles, which go for like 1.5 EGP a pack; the koshk is always your friend in financially troubled times. Public transport is not always the most pleasant thing in Cairo, especially if you're a woman, but it's cheap. The metro is still for a pound, people. I've also seen people fuel their cars with 5 EGP's worth, no joke. That's besides the ability to top up your prepaid phone with 5 EGP as well. Tell me where else you can find that!
Source: Escapade Through Egypt
11. McDonald's delivers 24/7. Enough said.
The fact that McDonald's delivers, along with everything else, is reason enough to enjoy being in Cairo. But 24/7 as well is just the cherry on top. McDonald's itself of course is a type of food that needs to stop existing, but the fact that it's available at 4.30 am when the rest of the city is dead is not something to be mad at. Certain pharmacies like El-Ezaby also deliver 24/7, and Pizza Hut and co. are open until around 2 am. 
Source: Dutch Design Company
12. Speaking of convenience, everything is nearby. And cheap.
Source: Bremen University
On your average Cairo block, you'll find about 3 koshks, 1 mini-market, 2 pharmacies, a place to buy a variety of things for your home, a dry-cleaners, a coiffeur, an electrician and a myriad of other useful entities. You can pay someone to come pick up your clothes, iron them, and return them. You can pay someone to clean your whole apartment for less than 100 EGP. You can pay someone to deliver fresh vegetables to your door. I literally got the equivalent of 6 kilos of vegetables the other day and paid less than 30 EGP, delivery and tip included. You'll find a sweet potato guy practically at your building's doorstep daily, ready to hand over roasted sweet potato for almost nothing.
Source: Dragons Rabbits and Roosters
13. There's lots of innovation, start-ups and a chance to make something of yourself.
Source: Think Marketing Magazine
I don't know if you've noticed, but entrepreneurship has been booming in Egypt recently. Start-ups are popping up like daisies all over the place, usually driven by young Egyptians who have a particular vision for the country. Almost on a daily basis I see new initiatives, new apps, new services, new restaurants... many by people younger than 30. Sure, Egyptians have to deal with ridiculous bureaucracy bullshit but it's still possible to bring an idea to life. Plus, the beauty of Cairo is that you're a big fish in a small pond. For a lot of people, it's easier to make something of themselves here than abroad, where the competition is so fierce. We're still developing and catching up with the world, and in a lot of ways, that gives us way more opportunities to climb the ladder faster. Obviously you can't compare salaries here with salaries abroad but hey, you gotta start somewhere. 
Source: RiseUp Summit
14. Some of the best fruit in the world.
Source: Trover
I know it's a bit strange to follow up the point about entrepreneurship with a point about fruit, but hey, that's my train of thought for you. Fruit is one of those magical (and rare) things in the world that's not only tasty as f*ck, but actually good FOR you. Have you ever tried the fruit in the States for example? It looks amazing (seedless watermelon, anyone?) but actually tastes pretty much like... nothing. And can anything really beat a fresh watermelon slushie during a Cairo summer? 
Source: The National
To sum up, yes, we're all very aware of Egypt and Cairo in particular's problems -- but that doesn't mean we can't appreciate the things that we have in spades.